Monday 2 November, 2020
Local SEO is an incredibly important factor for any small business' digital marketing strategy. Getting search engine optimisation right at a local level can elevate your website enquiries and sales exponentially. Get it wrong and you could be missing out on up to 80% of your potential local audience.
I've written this guide to help you to understand local SEO as part of your digital marketing strategy. Find out tips, tricks and local SEO essentials for your website and digital presence.
By the end of this guide you will have a full understanding of do-it-yourself local SEO as well as the knowledge to understand what a local SEO expert should be doing for you.
I'll explain how Google ranks on a local level and I will present examples of local SEO using Tonic Fusion's home town, St Albans.
For instance, a Google search for 'SEO expert in St Albans' provides results on a local level. However, this is an infrequently used search term. A searcher is more likely to just use the search phrase 'local SEO expert' or even just 'SEO expert'. Google identifies local intent and presents search results accordingly.
Let's start making local SEO a game changer for your business...
Firstly, why is local SEO so important?
How does Google know that a searcher has local intent?
First and foremost, Google will always provide search results that are as relevant as its data can provide. Google's algorithms understand all of our search queries in infinite detail. Therefore, they are surprisingly good at distinguishing between a query with local intent and a more general search. Here are a few search phrase examples where results provide national or even global results and where local results will prevail:
'How far does the queen travel?'
(Surprisingly far as it turns out!)
For this question Google returns general results with the top result a 'featured snippet':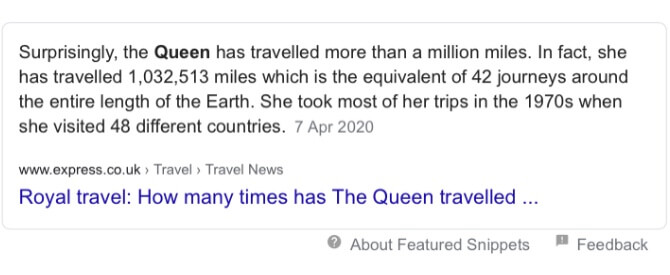 'How far is Queens?'
(I wanted the Tennis Club but Google gave me the New York district!)
A global result with local St Albans intent recognised: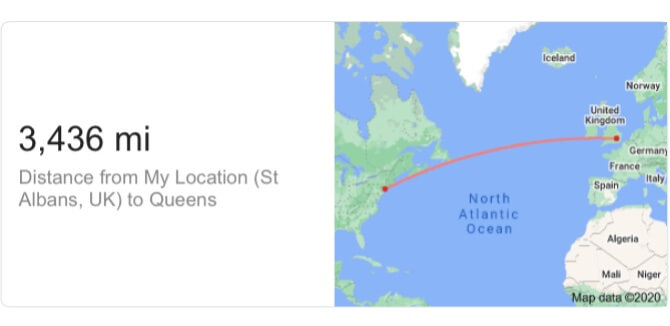 'How far is the Queen's head?'
Here's the local result. Right at the top of the results I'm presented with The Queen's Head pub in Sandridge, St Albans. Shame it's closed, but then it's 11:10pm at the time of writing this article!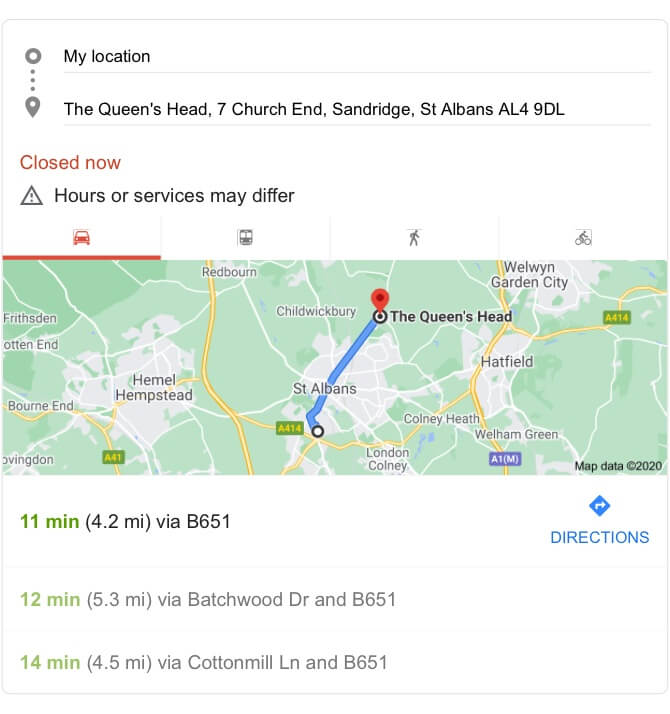 Understanding how Google ranks for local SEO
Google utilises a number of localisation signals and factors to place and then rank a website. To start with you will need to understand how your audience is likely to search for businesses like yours. Nail this and you're on the way to understanding how Google ranks for local SEO.
Here are a few examples of search queries with solely local results making up the top ten:
'Restaurants'
'Accountant'
'Photographer'
'Independent Porsche specialist'
Notice that none of the above search phrases include 'St Albans' or 'near me', yet they all deliver very local results. And all results included a 'map pack'. Try a similar Google search yourself.
Google algorithms interpret certain queries using specific search phrases to have local intent. If your business' critical key phrases match Google's local intent queries you need Google to not only identify this but also to pin-point aligned signals to rank your website favourably using the local SEO checklists below.
Local SEO checklist - the critical success factors:
Optimise your Google My Business profile to 100%
Tailor your website SEO to include localisation factors
Build specific 'local' website content pages
Optimise online directories / NAPs (Name, Address, Phone Number)
Post content to Google My Business
Generate relevant local inbound links
Move into the 'map pack'
Ensure your website ranks for the right service/product keywords
Add local content to social media posts
Engage with local groups/charities and social pages
Additional local SEO tips that the experts use:
Keywords and locations used in reviews
Keywords in Google My Business profile and posts
Local social media shares
Schema geographic markup
Open early and close late
Is local SEO difficult to get right?
I'm often asked to help businesses that are struggling to generate enquiries from customers near their premises. Many have dabbled in SEO without huge success and have become frustrated that their competitors are always outranking them in search engine results pages (SERPS).
Their opening gambit usually defends their actions and vilifies Google's algorithms for 'not ranking their website correctly'! But from an initial review I can provide a picture of why their website is not listed in the Map Pack and why they haven't made it to Page 1 of results pages. Here are a few all too common errors:
Incorrect address listings across external websites (old addresses, incomplete addresses, etc)
A lack of social media business pages and independent directory listings
Minimal local SEO additions throughout their own website
Local SEO is easy to understand. And getting the basics right, equally easy. But leapfrogging your competitors can be the tough bit, hence the reason for writing this local SEO guide.
Keyword Research for Local SEO
Local SEO keyword research should form the basis of your digital localisation strategy.
Local keywords and business focused keywords can be researched using a variety of tools and methods. If you already have a keyword strategy for your business, adding localisation to this should be fairly quick and easy.
Start with location based keywords:
Your location / town / city - e.g. St Albans
Your county / region / area - e.g. Hertfordshire
Other local conurbations - e.g. Watford, London
Postcode regions - e.g. AL3, AL1
Keyword Tools
There are a number of tools at your disposal for developing a keyword strategy. Here are a few of the FREE tools and methods I use:
Google Keyword Planner - try using your competitors' domains to search for their keywords. If your competitors are out ranking your website they must be doing something right.
Google Search - start typing your key products / services into the search bar and Google will provide predictions that other searchers use. Include locations to check local intent phrases.
And here are a couple of freemium tools:
Moz provide a free keyword planner.
SEMrush - expensive but feature rich.
What is the Map Pack?
The 'map pack' features the top three local businesses with Google My Business map listings. The map pack usually appears above other natural listings and below the top three paid for advertisements.
If you run a local business that relies on footfall customers at a local level, the map pack is where you want to be.
However, if your business doesn't rely directly on 'footfall' visitors, don't get hung up on joining the map pack. For example a Grounds Maintenance company may operate at a local level but only visit clients' sites. Whereas a local car servicing garage will certainly want a map pack spot.
This is where 'local' really kicks in. Take a look at the results below, Google is even considering time of day. My search was run at 11:46pm, therefore I'm presented with results showing restaurants that are still open! Kebab anyone?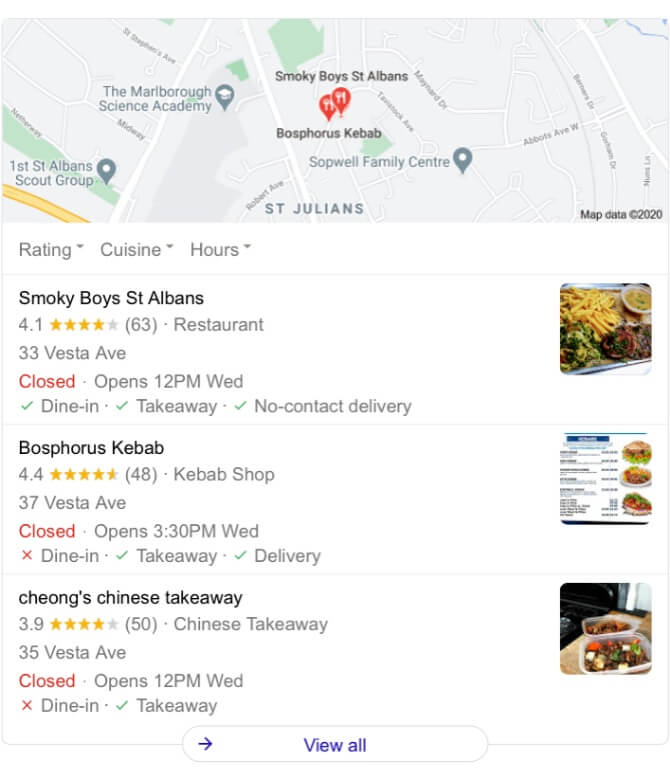 Ranking factors that move your website higher in local search
The figures below were presented at Whitespark's Local Search Summit in September 2020 and based on a survey of 50 independent local SEO experts. This survey was last reported on the Moz website back in 2018 and since then there has been a marked change in the importance of ranking factors.
Local Map Pack Search Ranking Factors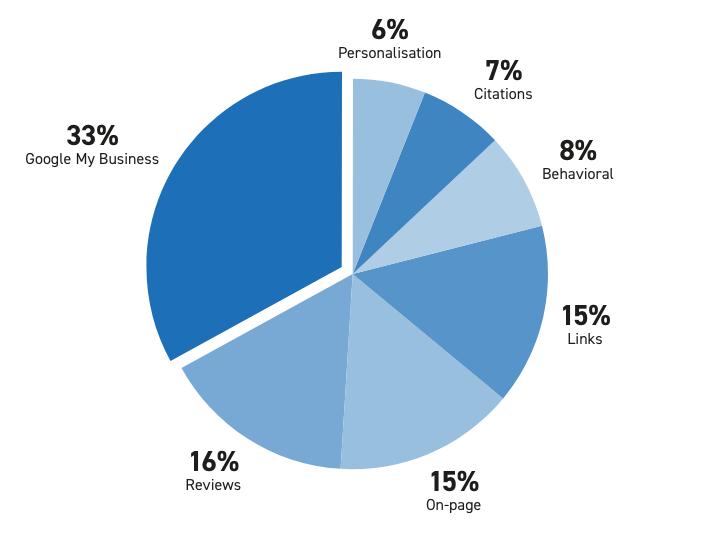 One figure stands out above the rest, Google My Business signals make up 33% of the map pack ranking potential. It's critical therefore that you spend time building and updating your GMB profile.
Link signals and Review signals are also essential and they aren't too hard to come by. Building brand reputation and awareness are always good marketing strategies. Increasing these strategies online will provide the catalyst for increased natural links and reviews.
Local Organic Search Ranking Factors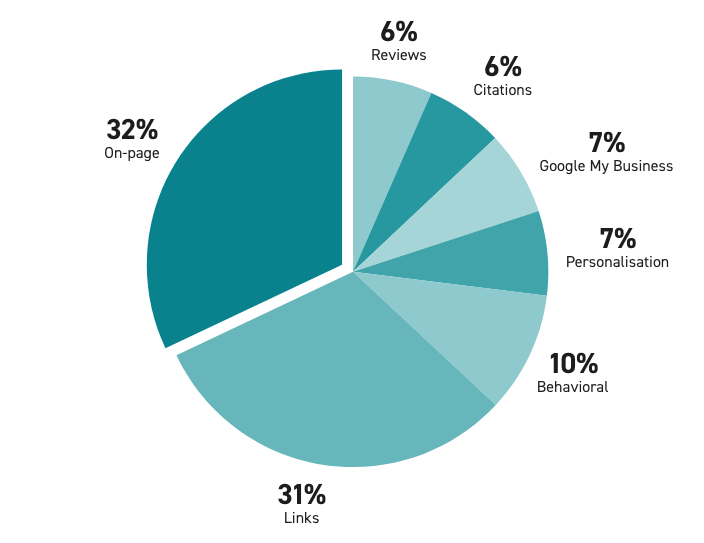 Don't overlook Local Organic Google Ranking Factors. The chart above should be considered and averaged against the Local Map Pack Ranking Factors and a strategy developed if you consider it important to rank effectively for both.
Optimising your Google My Business profile
Your Google My Business (GMB) profile is the single most important piece of the local SEO jigsaw after your website.
Not got a GMB profile? Firstly, before you register a new listing, check that your business isn't already on the map. If it is you'll see an 'Own this business?' link that you can use to start your official listing. If you're lucky, your business might already have a few reviews!
If your business has multiple sites, you'll need to register each address. You can set these up using the same account.
In addition to business opening hours and contact details you can also select business categories. It's important to select the services that you provide at a local level.
The more optimised the information that you include, the better. Google even provides you with a handy percentage complete profile indicator, aim to get this up to 100%.
Reviews - the good, the bad and the ugly
We all understand the importance of a business referral or review. A personal statement can legitimise a business and their products and services.
Online reviews, especially Google Reviews, go a few steps further and can have a positive impact on local SEO. Google themselves say "Google review count and score are factored into local search ranking – more reviews and positive ratings will improve a business's local ranking".
Point clients and customers to your Google My Business page to leave a review. You can even provide Google Place ID that links directly to the right page to leave a review.
The higher the stars and the more reviews the better.
Ask for reviews that include keywords and location information e.g. 'Five stars, Lonsdale Services are the best financial advisers in St Albans, Simon Hawker reviewed and structured my pensions and share portfolio to grow my wealth.'.
Ahhhh 1 Star! Everyone receives a bad review from time to time. Don't ignore them, ensure the review is legitimate and deal with it in a constructive and positive manner. If you don't recognise the customer's name, report the review, flagging it as inappropriate.
What if things get ugly! It's possible that your business could be targeted with multiple fake spam reviews. Competitors may target and sabotage your brand and reputation. It's important to isolate these instances, provide feedback and 'flag as inappropriate'.
TIP: Never 'buy' reviews, likes or fake comments. Focus your efforts on your products, services and customer satisfaction and authentic reviews will follow. However, there's no harm in asking actual customers for reviews.
Optimise online directories and NAPs
NAP (Name, Address and Phone Number) citations are a critical local ranking signal. Google uses NAPs to verify your business address and contact details.
NAPs appear everywhere and ideally they all need to match. Spend time reviewing and correcting not just your website business addresses but also Google My Business listing, social profile NAP details and online directory listings.
Accumulating reputable and ranking citations on websites such as Yell, Yelp, Thompson Local and many others are beneficial. It's also worthwhile tracking down industry specific directories and local business listings.
Local SEO on your website
Your business website and the local optimisation that you include on it are as important as the 'off site' indicators. However, before you throw the kitchen sink at website optimisation, repetitively pasting your local town on to every page, take a step back and plan the pages and level of 'near me' intent that you believe is a sensible balance. Think about your website design and structure and how localisation can be taken into account naturally.
Key areas that should feature location references include:
Home page title tag
Headings
Page text
Meta description
Footer
Additional consideration should be given to:
Dedicated location focused pages with unique content
Blog / news articles
Reviews
Local link signals
Local websites can be a goldmine for increasing rank and SERP positions. Look for local directories such as Chamber of Commerce websites, Council websites and local business groups. Ensure that each citation listing that your create matches your Google My Business NAP.
Tap into your local community and business community
Contact suppliers, distributors, neighbouring businesses, clients and any organisation that you have a relationship with. The aim will be to ask for a link that includes your NAP and key services.
Feature at local events
Support local charities
Sponsor local sports teams
Invest in local PR
Another addition to link signals is Entity Popularity and Engagement. Are people, not necessarily your customers, discussing your products and services on community pages, forums, social media, articles and article comments? If not, why not. Create a plan to raise the profile of your business and your brand.
Conclusion - Getting started with local SEO
Local SEO is a keystone for small business digital marketing strategies. Yet it's becoming more complex and harder to leverage a quick leap SERP positions. It's harder to join the map pack and harder to top natural listings.
To get you started, here are my top 5 local digital marketing must dos:
Undertake Google My Business profile optimisation
Request reviews and suggest the inclusion of localisation and relevancy
Increase your on-page website localisation
Put in place a local link building strategy
Perform NAP reviews, standardisation and expansion
If you run into trouble or become unstuck with any of the techniques in this article, please reach out. You can contact me using the form below or call 01727 810254.
Author: Alec Butler
Alec is a Partner in Tonic Fusion LLP a web design and development specialist and digital marketing agency in St Albans, Hertfordshire.